< previous post return to index next post >
Re-emergence into racing!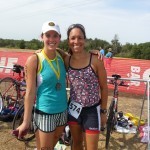 As a very, very average college swimmer, it was exciting to join the sport of triathlon post collegiate competition in the early 90′s…I was always one of the better athletes in my age group because of the lead I got out of the water. I found it an awesome sport to be a part of mainly because of the people: we were fun, fit, competitive in the moment but showed tons of camaraderie during training and certainly post race! Who knew you threw big parties at the end of a race where everyone gets together and drinks beer?
I enjoyed the sport for eight years going from small sprints to an Ironman distance over that time span. Then a demanding coaching career and family took over my focus. Fast forward to July 2013 and my first race in 14 years..hello Couples Tri! I lost an interest in the sport until the fall of 2012 when I began to coach some awesome triathletes. They reminded me of what a great community the sport attracts and now, without living vicariously through a 20 year old's competitive experience, maybe I should stir up my own competitive juices!
Thanks to a partnership with Coach Boris at T3M, I had a general workout plan, I replaced my 1999 Aegis with a new Felt bike from Jack & Adams, and I had no excuse not to start swimming again with an Endless Pool in my backyard.
I'm still super busy and still have two little ones (9 & 7) that I feel guilty leaving to go do something for myself but, I am beginning to squeeze in some important training time.
Not only did I want this reemergence for my own physical and mental fitness goals but, also so I could connect with a great triathlon community in Austin and relate with a large percentage of my clientele. I remembered/learned a lot in preparing for and racing the Couples.
1. Bring your family! My kids, whom I felt guilty about "leaving", ran me into T1, T2 and the finish chute and cheered non stop during T3! They were so proud and excited for their mama! I hope it motivates them to be a part of the sport or competition in general.
2. No matter what anyone says, I will continue to coach my triathletes to use their legs. Midway through the swim I dropped my legs, just to experiment, and found my rhythm changed dramatically and, even though I was focusing on balancing my body, I began swimming slightly "up hill". I promise you, if you train your legs to kick during KICK SETS they will be able to handle the transition to the bike.
3. Get the gear! Racing suit – I wasted minutes in T1 slipping my cycling shorts over my wet body and swim suit. Shoe lace locks – tying your shoes in a rush SUCKS!
4. Be friendly – say a "good job", "keep it up" or "looking good girl!" to a fellow competitor…even as they are passing you! It'll make you smile, take your mind off the pain and, what goes around comes around!
5. Do some brick work! OUCH!! Holy humbling! I haven't felt that pain in…well, 22 years at my first race!
6. Pre race/swim nerves have a profound effect on the beginning of your swim. I was nervous for so many reasons: open water, mass swim start, not being in great swimming (or biking or running!) shape and lastly, being judged by my peers, my teammate (an awesome young woman I recruited and coached for 4 years at UT), and my BEST clients. Honestly that was the most liberating part to overcome…the FEAR. Taking control of yourself and your emotions is so powerful and prideful. It did take the ENTIRE swim to get over those myriad of fears though; my heart rate was skyrocketing, and my mind racing but I am confident I will be better/more prepared for the next one! Yes, there will be a next one and not in 14 years!
I applaud everyone out there from the pros to the grandmas, the fittest to the squeezing into those bike shorts-est, the event producers to the volunteers; we're all out there having fun because we like a challenge, we like to see people put it on the line and we like to support a healthy and active lifestyle.
If you have wavered with the commitment or, like me, left the sport for an extended period…get back in it! You can overcome fears, doubts, time constraints, guilt, inexperience, and lack of equipment. Do something good for yourself…you probably deserve it.