< previous post return to index next post >
So you're heading to college...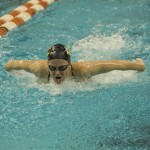 One of my favorite times of the year, while coaching college, was welcoming the new freshmen to campus. I had enjoyed getting to know all those young, talented and wide-eyed swimmers as recruits, and now I got the opportunity to coach them daily. As most coaches do, I held a team meeting immediately when they got on campus to welcome them, introduce them to their new family and give some sound advice. I'll share some of those timeless bits with you.


1. Academics are your #1 priority!
Go to class and sit in the front of the room.
Dress respectable – avoid wearing all those new sweatshirts and team t-shirts you just got. Yes, you are proud to be an athlete but your job for the next four years is STUDENT-athlete.
Introduce yourself to your professors, give them a competition schedule and invite them to a meet.
Study! Putting yourself in a hole first semester is incredibly hard to climb out of. Rather than play catch up, give yourself some wiggle room.
Obviously, all of these items are designed to make a positive impression on the faculty/staff, showing them that you take your academic goals seriously.

2. Get organized.
Give yourself time to move in and get things set up like you want them. Take a dry run and walk across campus to find your classrooms before the first day of class. Make sure you have all your books and supplies that are required.

3. Roommate bliss requires some compromise by BOTH of you.
No matter how much you believe you and your roomie are going to stand up in each other's wedding, you will still have your differences and probably vocalize them loudly at some point. You will have to work together to communicate effectively with one another. I think being mindful and respectful of each other's needs and difference's is paramount. Also, don't be afraid to plan in some alone time, for each of you, in the room. If you are teammates with your roommate, you will likely spend 2/3 of your day together!

4. Communicate.
No one can read your mind so you have to verbalize your thoughts/needs. Unlike your mom, dad, siblings, coach and teammates that you've grown up with, these NEW teammates, coaches and roomies are just learning who you are and what makes you tick (or explode!). You have to engage in the communication process by expressing yourself. Be prepared for these relationships, especially with your coach, to be different than the ones you had with your club coach and teammates…different is just different..not necessarily bad.

5. Make good choices.
Know who you are and be confident in it. You may have the opportunity to make choices you might not even have been faced with before: drinking, drugs, sex, skipping class…remember who you are and don't feel pressured to do anything you don't want. There is a good chance some of your other freshman teammates are worrying about making those same choice! Be smart and safe. A good measuring stick is…"Would my mom and dad be proud of me right now?" Good choices also apply to RECOVERY! Recovery includes sleep and fueling. Eat nutritiously – if you have the opportunity to meet with a nutritionist DO IT! Start learning about how to fuel your body best. Your body needs sleep to recover so close your Facebook page, twitter account and even the books at a reasonable hour and get some straight sleep.

6. Set and maintain good habits.
Schedule yourself for study time, practice time, fun time, sleep time…try to get in a good routine and then stick to it as best as possible.

7. Ask for advice.
If you are confused, lost, worried, overwhelmed…ask for help! There are so many people on a college campus that can help you navigate…you really aren't ever alone. Note I said ask for advice…not for someone to solve issues for you. That leads me to #8…

8. Take pride in problem solving.
Things are going to go wrong – trust me! Try to take a deep breath and figure out how to best solve it. It is perfectly fine to confide in someone and ask for advice but YOU need to learn/practice solving your own problems. Avoid calling your parents to get you out of a bind – try to solve it first and then fill them in. Trust me again that no coach or professor wants to hear from your parents about a problem you are having and how we should fix it…we are perfectly happy to hear from YOU though; that is a start to relationship building.

9. Don't be afraid to be the hardest worker.
Each year is a new year and you have the ability to re-invent yourself or step things up to a new level both academically and athletically. I've seen freshmen who literally held back because they were afraid of what the older kids would think. Don't you worry about that – they will learn to respect your work ethic, value your abilities (and points you score) and may even be motivated by your attitude.

10. Ditch the t-shirts from other schools.
You now are a part of a new family…own it! Represent your "family" with pride, loyalty and enthusiasm!

Good luck on your new endeavors – this is truly an opportunity of a lifetime and it will FLY by!