< previous post return to index next post >
University of Texas Triathlon Club Clinic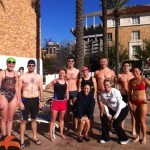 This Thursday I spent about two hours with a great group of athletes who aspire to improve in the sport of triathlon This clinic was a two day affair covering nutrition, running, cycling but I only participated for the swimming portion. There were about 20 athletes there from many different disciplines but the majority came from running. There was one guy who came from the couch – good for him!

I saw a lot of eager eyes and the attitudes were positive and inquisitive. The top questions were about breathing – how it effects their stroke by breathing too long or too high. I told them to look out for my next article in Austin Fit Magazine (April 2013) for great answers!

Not surprised, their biggest frustration with the sport was…the swim! Good thing I was there! I reminded them that the more comfortable they can get in the water, the more energy they can apply to forward momentum! I challenged them to get to swim workouts and embrace kick sets!

In talking about efficient swimming, we went over body position, a connected stroke (fingertips to toes), the importance of the catch/anchor and kicking. I taught them a few drills which we practiced in the beautiful outdoor Gregory pool. That place is literally a country club! It was awesome to see how quickly they caught on to new drills and concepts.

Today reminded me of how important it is to go out and gain knowledge. I think it is awesome that their coach Joanna Williamson set this up – she got some great folks together(Derick Williamson at Durata Training and professional triathlete Kelly Williamson….I guess I was the only non-Williamson there!) to provide some great insight for her team. I encourage you to keep reading, searching for videos, going to clinics, seeking coaching advice and then applying the information!